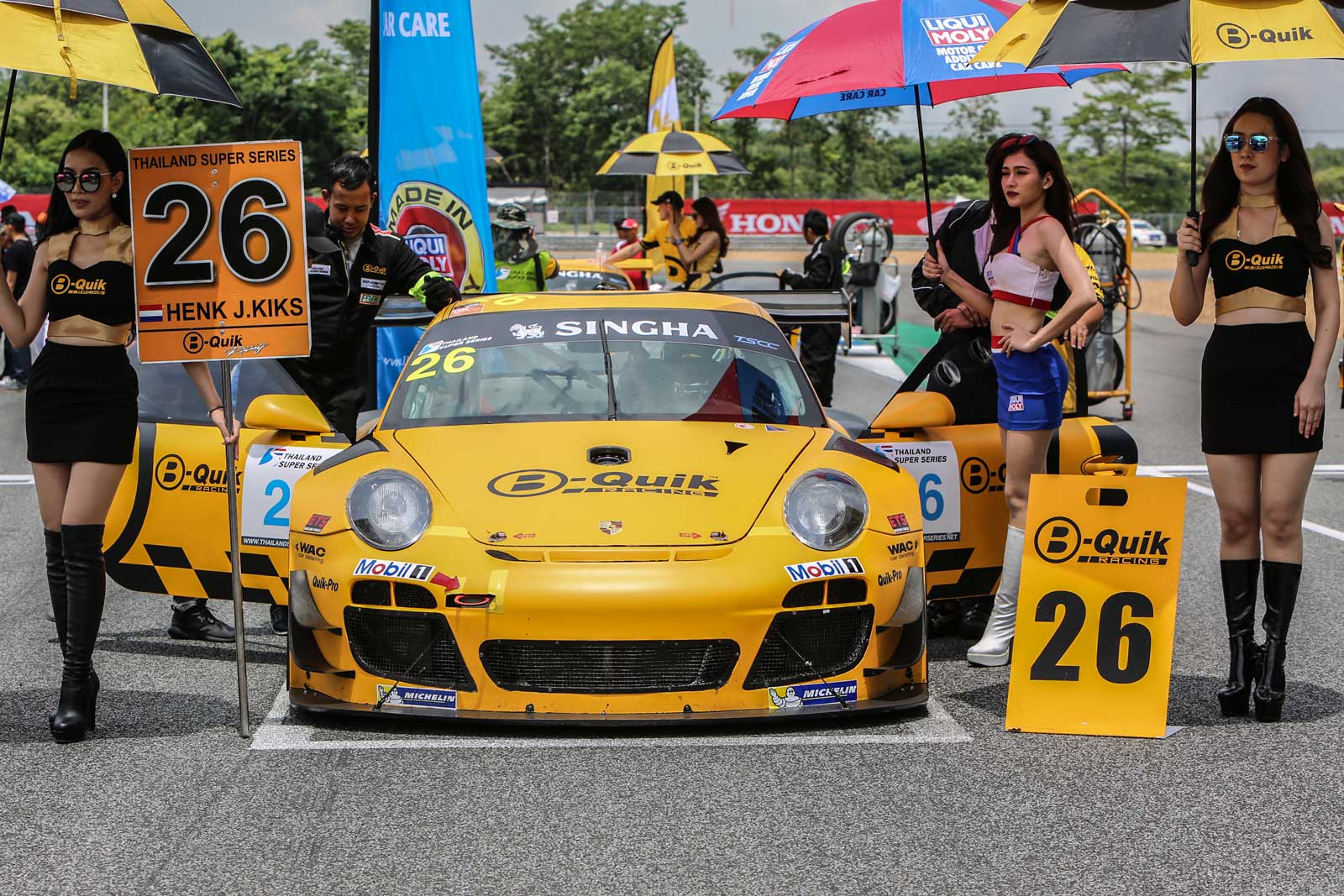 B-QUIK READY FOR ACTION ON THE STREETS OF BANGSAEN
B-Quik Racing is headed for the 12th Bangsaen Grand Prix this week with its biggest and most powerful line up to date, running ten cars across six categories during the "beachside" event's action packed programme.
The Bangsaen Grand Prix is the "Jewel in the Crown" of Thai motorsport and gets underway the day after tomorrow (Wednesday) with the first free practice sessions. We have a great track record on the 3.7-km street circuit, topped off by eight consecutive Super Car GTM wins between 2014-2016.
Our bumper line up will be led out by a two-strong entry in Super Car GTM Plus with our #26 Porsche 997 GT3-R shared by Henk J Kiks and Peter Kox while the #27 Audi R8 Ultra GT3 will be driven by Daniel Bilski and Adderly Fong.
That in fact means regular drivers Henk and Daniel will both enjoy the support of 'factory' drivers. Peter is an official Acura driver and of course was part of our winning team in the 2016 Sepang 12 hours, while he joined Henk for the debut of the "GT3-R" in Buriram at the beginning of last month, meaning we will hit the ground running with a very settled driver pairing who are familiar with the car. It's an "all Dutch" line-up too!
Meanwhile, Adderly comes to us thanks to the support we have been receiving from Audi Sport since Buriram (where Rahel Frey joined Daniel in the #27 Audi).
Adderly has a superb record, he first scaled the single-seater heights, going as far as testing a Sauber Formula 1 car, before switching to sportscars where he would really make his name. He knows the Audi inside out and is a previous champion of the Audi Sport R8 LMS Cup. He's racing one in Blancpain GT Series Asia too this year so he's sharp and ready.
For this year Adderly is a member of the Audi Sport customer racing Asia driver pool and he is also a 'Pro Mentor' in the Cup.
Handily too, as he's set to make his Bangsaen debut this week, the 28-year-old Hong Kong driver is top notch on street circuits having raced in the Macau F3 Grand Prix and the Macau GT Cup.
In Super Car GTM Alif Hamdan will switch to our newly acquired Porsche 991 GT3 Cup with the 997 GT3 Cup he raced in Sepang and Buriram moving into the hands of one of our customer drivers. This will be the young Malaysian driver's first time in Bangsaen, but he thrives on street circuits and has shined before at Macau, so he's good to go.
Will Bamber and Jeffrey Chiang will be again sharing in the #11 Porsche 991 GT3 Cup they debuted in together during the last round. For Jeffrey this will be his first time on the streets of Bangsaen while Will claimed a sensational double win here in Porsche Carrera Cup Asia last year so he will be looking to carry forward that form and expect him to be pushing hard as possible. He's "doubling up" this weekend as the young New Zealander is also back in the "Carrera Cup" series again where we also support him.
All our drivers in Super car GTM are ready to fight hard and certainly will be looking to repeat the excellent run of podiums they claimed during the last round. Lastly in GTM, we will support the #29 Porsche 997 GT3 Cup driven by Thomas Raldorf; the Dane is now switching up to the car driven by Alif during the opening races of the season.
In Super Car GTC Ian Geekie will be back in the #18 Porsche 997 GT3 Cup as he goes into his second time at Bangsaen. The first time went well so expect the experienced Australian to be on the podium this weekend during GTC's races which switch to Friday and Sunday for the first time.
Finally, the young driver programme is thinking big this weekend with four drivers in action across three categories. As usual on the TSS programme Narin Naeosathon will be in the #26 Camaro TA2 running in TA2 Thailand and our two Honda Brios will be entered in Super Eco for Adisak Tangphuncharoen and Pongtanu Kamsai, but for Bangsaen the "Toyota Motorsport" championship joins the programme so our new Toyota Vios will also be in action just a week and a half since the last round in Buriram with Jerasak Kongplab back behind the wheel again.
B-Quik Racing is supported by B-Quik, Michelin, Mobil 1, Bendix, Yuasa, NGK, Liqui Moly and STI and WAC Car Detailing.
Henk J. Kiks: "It goes without saying that I'm really looking forward to Bangsaen. This is the high point of the racing year, the atmosphere is like nowhere else and we have a good track record on these streets, we've enjoyed a lot of wins and podiums. I'm very pleased that Peter will be back to share the Porsche 997 GT3-R, he's a great asset to the team, and after the new car's debut in Buriram turned into something of an extended test session we have put a lot of work in over the last month. So, I hope that Peter will have a productive weekend ahead for his trip from Europe. As usual we will be targeting podiums and the Bangsaen trophies."
Peter Kox: "After Buriram where we had some misfortune, I'm really happy to return to Thailand for the Super Series race at Bangsaen with B-Quik. What I've seen and heard it must be a fantastic event so I'm happy to put this fabulous street circuit on my CV. B-Quik has a strong pedigree there and Henk and I will do everything to keep that alive."
Daniel Bilski: "The Audi Sport R8 LMS Cup support moves to its next phase, which will see Adderly Fong join me in the #27 Audi R8 LMS Ultra in Bangsaen. This will be his first time in Bangsaen, so we're looking forward to adding his vast experience to our car for the week and I'm really looking forward to driving with him. The Bangsaen Street Circuit is everything you would expect from a proper street circuit. It's very fast, it's tight, it demands complete and total commitment and respect. Every lap. Fast car, awesome team, mega circuit, at the beach and Audi Sport R8 LMS Cup on board. What's not to be excited about ?!"
Adderley Fong: "I'm really excited to be joining Daniel at B-Quik Racing for the first time. Also, what a place to do it at than at the Bangsaen Grand Prix. We will be piloting the Audi R8 LMS Ultra, a car I feel will be really strong at this type of circuit. My favourite tracks are street courses and Bangsaen is every part that. I'm looking forward to this amazing opportunity and to be making my first appearance there."
Alif Hamdan: "It's going to be my first time to race in Bangsaen. I was invited by Carrera Cup Asia last year to go and watch the race so I did the track walk with some of the teams so I have a rough idea of what the track looks like. But I've never driven there so the closest I can use for experience is back in 2013 when I did Macau with Carrera Cup. Generally, I like street circuits because they favour the braver drivers, it's just more about setting the car up right and softening the suspension to take up the bumps as from last year I remember it is quite a bumpy circuit. I'm really looking forward to it."
Ian Geekie: "I'm really looking forward to getting behind the wheel again on the amazing Bangsaen Street Circuit. The last event here was not great for me being taken out in Race 1 and suffering a mechanical failure in Race 2 so I feel that I have unfinished business here. The B-Quik team have got my car back to top condition and I can't wait to go racing."
Will Bamber: "Finally, it's Bangsaen time ... the season highlight in my eyes. We had a great opening weekend in TSS and the 991 Cup car prepared by B-Quick was on rails. I'll be hoping for more the same come the challenging street track which is going to test car, team and driver. Can't wait to get started."
Jeffrey Chiang: "I really enjoyed my first weekend as part of Thailand Super Series. We celebrated our first podium with my team mate Will and after much success for him last year in PCCA at Bangsaen, we have hopes for more strong results. My first time at Bangsaen will be amazing."
Narin Naeosathon: "I'm very excited for the coming race in Bangsaen. It's a street circuit that's enjoyable to drive with a mix of hard and easier sections and needs advanced driving skills. I've raced here in the Brio but now I've moved up to the Camaro so it's going to be a very different car. We have prepared by using previously race data and analysing it to help me improve and get a better performance out of the car."