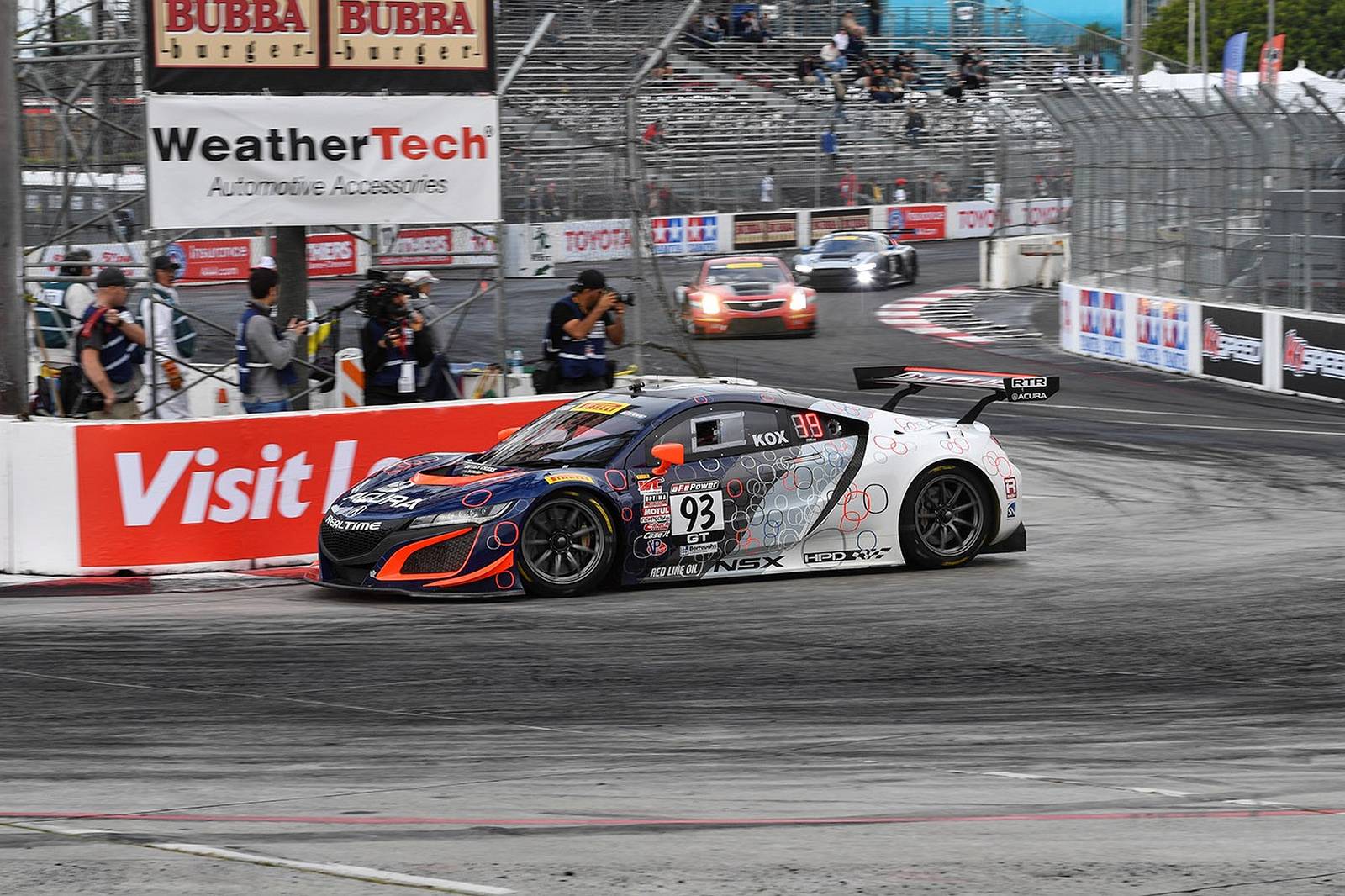 RealTime Acura Survives Wild Long Beach Race
LONG BEACH, Calif. (April 10, 2017) – Between the treacherous concrete-lined streets of Long Beach, California, RealTime Acura got both of its Acura NSX GT3s to the finish line. Ryan Eversley finished 11th and Peter Kox finished 13th in the third round of the Pirelli World Challenge GT Championship.
Qualifying
Following an overnight rain storm in Long Beach, RealTime faced tricky track conditions on Saturday morning.
The track was quite wet, but would likely dry out quickly. Luckily, a 30-minute practice session prior to qualifying helped the drivers and team confirm that slick tires were the way to go.
Making his first appearance at the 1.968-mile, 11-turn temporary street circuit, Kox qualified the No. 93 Acura/HPD/RealTime Acura NSX GT3 10th, while Eversley put his No. 43 machine 13th on the grid.
Race
Street races tend to offer plenty of drama, and Long Beach did not disappoint. Both Kox and Eversley had contact in the opening lap, with Kox getting the worst of it and falling from 10th to 15th.
"Somebody drove quite hard into the back of me," Kox recalled. "It was a shame because I had a really good start. Then, someone else got into the side of me. From there on, I was just playing catch up. It's inevitable on circuits like this, but you always hope it won't happen to you."
What began as a strong start for Eversley didn't pan out that way when the field funneled into Turn One.
"I had a good run," Eversley said. "I popped to the inside. It was the only lane I had. I went side-by-side with [Jon] Fogarty (Porsche). Then he disappeared and I got alongside [Michael] Cooper (Cadillac) who's a really smart racer and left me room, but got crowded into me. I got pinballed off the wall in Turn One, which is really not ideal. Then, I knew we were coming to the fountain and everyone was going to stack up, so my plan was to come up the inside against the wall and not dive-bomb the apex, but park it on the curb. As that was happening, somebody hit my teammate Peter into the side of me. We came out of there and carbon-fiber was going everywhere!"
Thankfully, the sturdy Acuras held up throughout the chaos and suffered mostly cosmetic damage. As the field began lap two, Eversley was up to 12th and Kox 15th.
Just as the cars began to settle into a rhythm, something that could only happen on a temporary street circuit surprised everyone: a fire hydrant was struck by a vehicle a block from the track and began dumping gallons water on the back straight!
"The first time I came through I thought someone had a water leak," Kox said. "The second time it was a little more, the next time— and it was already yellow at this point—I almost aquaplaned into the wall, so I was really lucky. That was a first for me in my racing career!"
The race was red-flagged while city officials turned off the hydrant and track crews cleaned up the standing water. When racing resumed, there was 35 minutes remaining on the race clock.
Kox meticulously reeled in the No. 8 Cadillac of Cooper and made a pass to take 14th with 10 minutes to go.
"I came off the last corner very well, but every time out of the corner, he would pull away," Kox explained. "I had to make him make a mistake. I knew he was trying to make a move on the Lamborghini. Finally I got him, but the Lambo was too fast for me. I was fast, but I think I was fast in the wrong places."
On the final lap, the No. 3 Cadillac of Johnny O'Connell got into the tires in Turn One, this promoted Eversley to 11th and Kox to 13th at the checkered flag.
"I'm really proud of the RealTime guys and everyone at HPD for making this car a lot more user-friendly," Eversley said. "I was able to dice with some cars and felt safe doing so. A job well done for the team and I'm happy we're going to be testing this week at Mazda Raceway Laguna Seca to continue to improve the car."
Next up for RealTime Racing is the first GT Sprint-X rounds on the Pirelli World Challenge calendar. Eversley and Kox will be joined by Tom Dyer and Mark Wilkins at VIRginia International Raceway for two 60-minute races. Both will be streamed live on world-challenge.com.