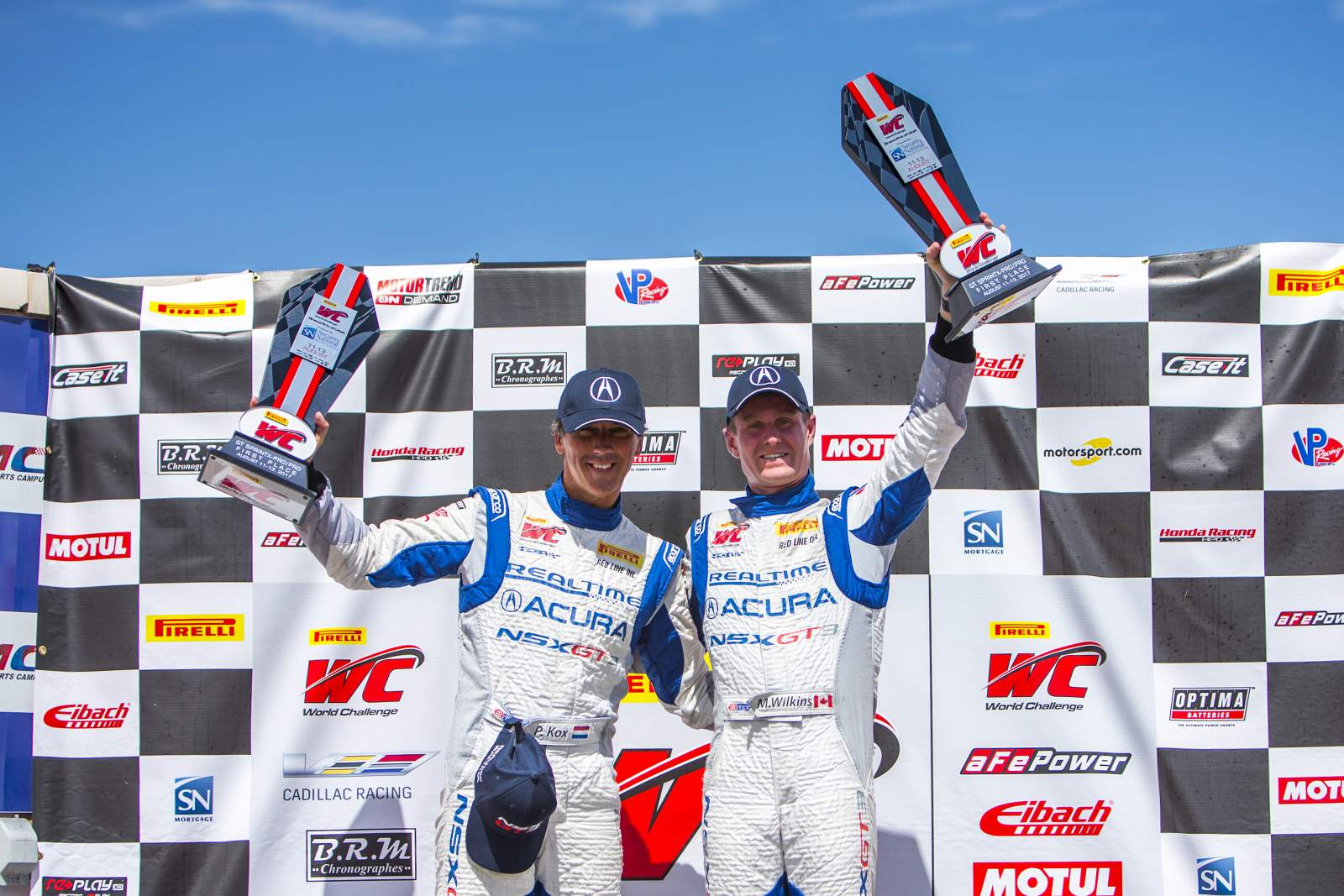 RealTime Acura NSX Victorious in Utah
TOOELE, Utah (Aug. 13, 2017) – RealTime Acura earned the first Pirelli World Challenge victory for the Acura NSX GT3 at Utah Motorsports Campus and backed it up with a runner-up finish the following day. Full-season drivers Ryan Eversley and Peter Kox were joined once again with Tom Dyer and Mark Wilkins for Rounds Seven and Eight of the Sprint-X GT Championship.
QUALIFYING
After some quick times in Friday's practice session, the RealTime squad had high hopes for qualifying on Saturday morning. They were rewarded with a pole position from Kox in the No. 93, with a lap of 1:47.993. It was the first pole for the Acura NSX GT3 in World Challenge competition. Teammate Eversley wasn't far behind in fourth.
SATURDAY – RACE 1
Kox had no trouble keeping the field at bay during his stint. He took off at the drop of the green and didn't have any trouble from the second place No. 31 Ferrari.
Eversley defended his spot well in the opening laps before setting to work on the No. 58 Porsche driven by Pat Long. He was able to grab third from the Porsche in Turn One.
"It was a little aggressive start from everybody, but fun," Eversley said. "Pat [Long], Meatball [Daniel Mancinelli] and I had a nice start into Turn One. We settled in. Pat and I were hammer and tooth. It was really fun battling with him. He started to lose his tires faster than I did. I just waited until the front straightaway, got alongside of him and waited for the brake zone in Turn One. He fought me all the way to the apex because the dude is a stud, so that was cool."
Kox pitted from the lead to hand the car over to Wilkins. The duo's handoff was just a touch slower than the Ferrari, and when the No. 31 exited pit lane, it was in front of Wilkins.
A wayward belt cost the No. 43 drivers time on pit lane. Eversley pitted from third, but when Dyer took the car back on track he was fifth behind the No. 3 Cadillac. He was able to take a couple looks during his stint, but wasn't able to find a way around and finished fifth.
"We were fighting a little bit of understeer to begin with and then it kept growing and would get worse behind the Cadillac," Dyer said. "I lost him when we came up on traffic and I couldn't claw back because it was becoming harder and harder. I tried to hang on. I was concerned about the left front tire too. It was feeling a little odd."
Up front, Wilkins was trying to catch the No. 31 Ferrari driven by Niccolo Schiro when it suddenly went off track all on its own, handing the lead to Wilkins. The Ferrari continued in second and began to reel in Wilkins.
 
With three laps to go, Schiro was all over the No. 93 Acura. On the final lap, the Ferrari made a move, but Wilkins was ready for it. He defended, held the spot and crossed the finish line a mere 0.228-second ahead of the Ferrari.
"I was a bit nervous to be honest," Wilkins said. "I just wanted to stay out of trouble and do the best job I could. It's great to get the first victory in World Challenge for the NSX GT3. It feels fantastic!"
The first win for the Acura NSX GT3 in World Challenge competition is also the first win for Kox on U.S. soil.
"It was my first pole start in America, with the flag instead of the lights, but I had a good start and I just concentrated on my own race and tried to conserve the car as well as I could for Mark, so he had a good car to finish it off," Kox said. "We lost some time in the pit stop, but luckily it fell back into our hands. Mark withstood the pressure and we have a fantastic result."
SUNDAY – RACE 2
Fast race laps from Saturday's race set the grid for Sunday, this put the No. 93 second with Wilkins behind the wheel and the No. 43 third with Dyer at the helm to start. The No. 31 Ferrari was on pole.
The green flag waved and the RealTime teammates went side-by-side through the first two turns before they settled back into their starting positions. That's when the team noticed that Wilkins' car had a tire puncture.
"Right away when it went green and into Turn One, I tried to press the Ferrari, but my car was quick to let me know that the grip wasn't there," Wilkins said. "Everyone else picked up speed and we didn't seem to be able to do much. It was obvious the tire was going down and we didn't have the grip on that right side."
After pitting for a new right rear tire, Wilkins rejoined the race at the back of the field. Meanwhile, Dyer was in second, chasing down the lead Ferrari.
"I tried to chase down the leader, but as it turned out we were just able to maintain the gap," Dyer said.
He pitted from second and handed the car over to Eversley, who took up the chase of the Ferrari. He quickly got some help from a full-course yellow. On the restart, Eversley was all over the Ferrari and looking to make a move, when another full-course caution was issued, stalling his progress.
"I got in the car and put my head down," Eversley said. "Unfortunately, we had all those yellows. I think if we didn't have all those yellows it would have been more fun, especially that last one. We were catching the Ferrari and he didn't clean his tires off during the second-to-last yellow. Then we went green and he realized what he'd done, he didn't make that mistake again."
When the race restarted for the final time, there was only four minutes, or two laps, left in the race. Eversley went side-by-side with the Ferrari through Turns One and Two, but couldn't find a way around and crossed the finish line in second.
"I can't say thanks enough to RealTime, Acura and everyone that lets me drive these cars and be a part of this program," Eversley said. "These are the days you dream of and to get this podium with my friend Tom Dyer is a big deal."
Wilkins eventually handed the car over to Kox, who continued to try and pick his way through the field. At the conclusion of the race, the No. 93 was up to 11th in class.
"It was an unfortunate day after yesterday, getting that first win," Wilkins said. "We wanted to back that up. I'm happy the other car had a strong finish. We'll come back strong for COTA and try to get back up to the front."
"All in all, for the RealTime Acura team this is a good result," Kox added. "We have two podiums in two races. It's not so often that you can be so competitive in this series and we were."
The Pirelli World Challenge Sprint-X races from Utah Motorsports Campus will air on Sunday, August 20, at 2:30pm ET on CBS Sports Network.
RealTime Acura has two weeks off before the next round of the Pirelli World Challenge Championships. Sprint-X Rounds Nine and 10 take place September 1 – 3, at Circuit of the Americas in Austin, Texas.