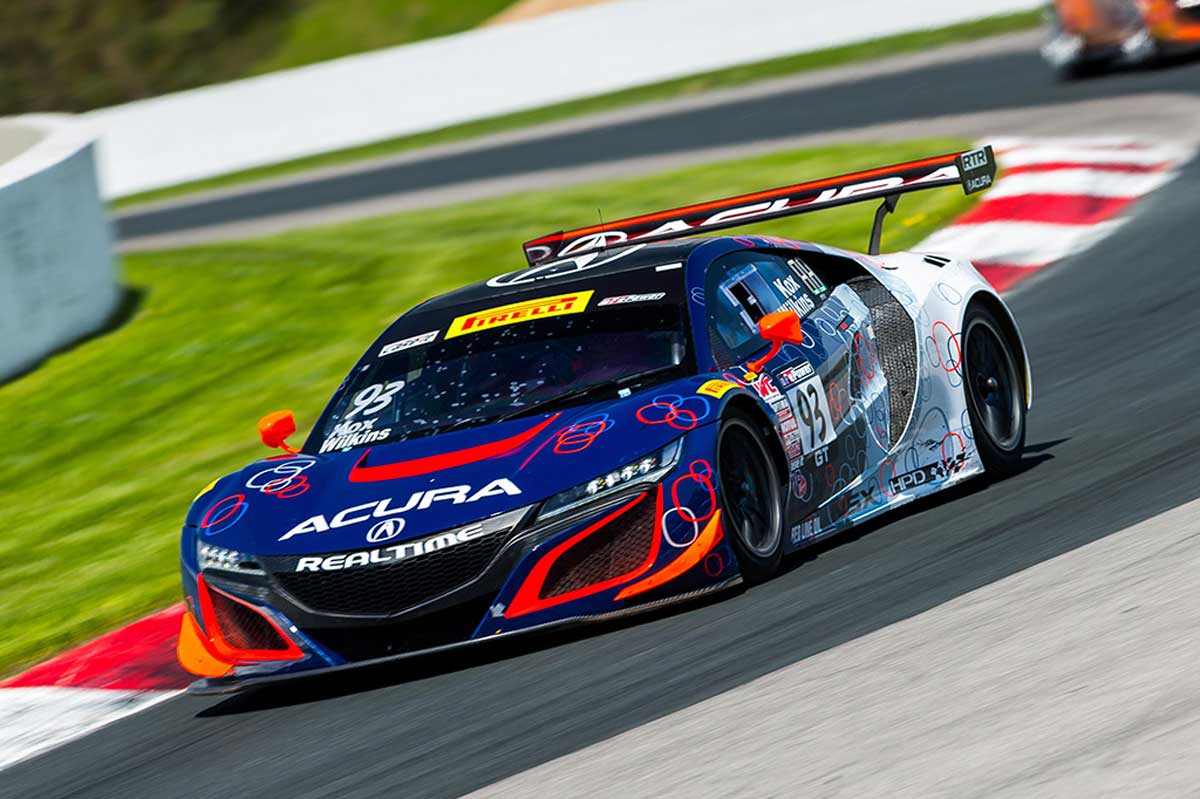 Top 10 Finish for RealTime Acura in Abbreviated Canada Weekend
BOWMANVILLE, Canada (May 22, 2017) – RealTime Acura scored a top-10 finish at Canadian Tire Motorsport Park for the latest round of the Pirelli World Challenge Sprint-X Championship. Treacherous weather conditions on Sunday prevented a repeat performance, however, after series officials were forced to cancel the second half of the double-header.
QUALIFYING
Ryan Eversley took on qualifying duty for the No. 43 Acura/HPD/RealTime Acura NSX GT3, while local favorite Mark Wilkins was in the driver seat for the No. 93.
At the conclusion of the 15-minute qualifying session around the 2.458-mile, 10-turn course formerly known as Mosport, Eversley was 11th and Wilkins 15th on the grid.
SATURDAY – RACE 1
Qualifying drivers are also required to start the first race, so Eversley and Wilkins took the green flag. Right away there was plenty of bumping and banging, which stifled Eversley's progress in particular.
"We had a decent start, but after getting rear-ended twice we lost a couple spots," Eversley recalled. "We made our way back up, but it was really hard to do with the aero wash these GT3 cars make at this track."
Wilkins worked his way up to 12th before the pit window opened, where each team must complete a required driver change and be on pit lane for a minimum 30 seconds. For the No. 93 Acura NSX GT3 it was a change from Wilkins to Peter Kox.
"The driver change was perfect," Kox said. "We decided to leave Mark in for a little longer before making the stop. Our strategy played well because we had a few laps of clear air. I think we also made up three positions on our pit stop. We had no problems."
The No. 43 Acura NSX GT3 also made a seamless change from Eversley to Tom Dyer.
"The pit stop was good," Dyer said. "The team nailed it in terms of getting the required timing correct. Kudos to them because that's two races in-a-row that we've been right on the money and that's not easy to do, as we've seen other teams get tripped up by the 30-second rule."
Shortly after the pit window opened, a full-course caution was issued, so when Kox and Dyer returned to the track, it was behind the safety car, under yellow.
The race went back to green with 20 minutes remaining and immediately both RealTime Acura drivers were on a charge. It wasn't easy though. For every spot they'd pick up, slower traffic would come into play and they'd give the spot back up.
In the end, the Wilkins and Kox were able to pick up six positions from their grid spot and finish ninth, while Eversley and Dyer crossed the finish line in 11th.
"I picked up a spot on the restart and that was good," Dyer recalled. "Then I'd pick up a couple spots and then lose a couple and we kept going up and down and it was like treading water. As a whole, however, we're encouraged, because the cars are racing better and we're all feeling more confident about getting in there and making moves. It's extremely encouraging and we all feel like we're making progress that way."
SUNDAY – RACE 2
The fastest race lap from each Sprint-X driving duo on Saturday set the grid for Sunday's race. This put the No. 43 Acura NSX GT3 12th and the No. 93 Acura NSX GT3 18th on the grid.
Sadly, the green flag would not be issued. After a full day of rain, by the time the Sprint-X race was scheduled to start, the track was flooded. So treacherous were conditions, officials made the hard decision to cancel the race and reschedule a makeup round at another World Challenge weekend.
"It was absolutely the right call," Wilkins said. "I'm always excited to race here in the rain, because I've turned quite a few wet laps here, so I know the rain line very well. When it rains really hard here, in the spring, the ground gets pretty saturated and there ends up being flooding on the track and then it becomes a big safety issue."
The Pirelli World Challenge Sprint-X race at Canadian Tire Motorsport Park will air on CBS Sports Network, Sunday, May 28, at 6:30pm ET.
RealTime Racing has no time to rest as it heads straight for Lime Rock Park, in Lakeville, Connecticut, for the next round of the Sprint-X Championship, May 26 – 27. Friday's race, scheduled for 3:55pm ET and Saturday's race, slated for a 1:20pm start, will both be streamed live on world-challenge.com.