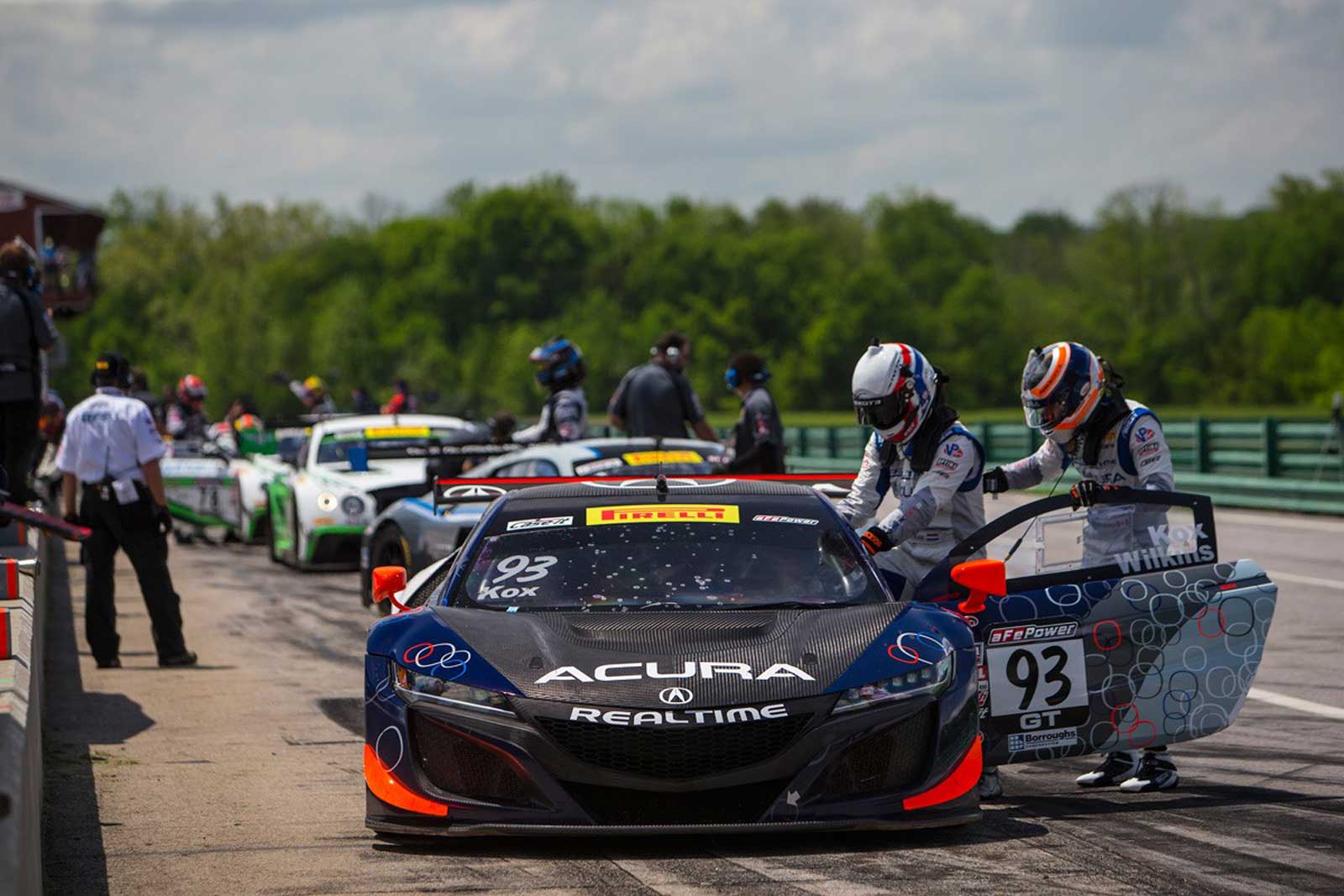 RealTime Acura Makes Big Gains in Sprint-X at VIR
ALTON, Va. (May 1, 2017) – RealTime Acura took part in the first rounds of the Pirelli World Challenge Sprint-X Championship at VIRginia International Raceway. After a rough race on Saturday that saw both cars sustain crash damage, the team bounced back and put both Acura NSX GT3s back in the fight on Sunday.
The Sprint-X format lengthens the race time from 50 to 60 minutes and includes a mandatory pit stop for driver change. There are no tires changed or fuel added during the pit stops, but the stops must be at least 30 seconds in length for cars with Pro/Pro driver lineups, like RealTime.
In addition to full-season drivers Ryan Eversley and Peter Kox, RealTime enlisted the assistance of Acura endurance drivers Tom Dyer and Mark Wilkins to share driving duties in the No. 43 and No. 93 Acura NSX GT3s.
QUALIFYING
After a day of testing on Thursday and two practice sessions on Friday, RealTime faced steamy temperatures for qualifying at the 3.27-mile road course.
Eversley took on qualifying duty for the No. 43 Acura/HPD/RealTime Acura NSX GT3 and Kox in the No. 93 Acura/HPD/RealTime Acura NSX GT3. In the hotly contested GT-X category, Eversley qualified 12th for Saturday's race and Kox ended up 16th.
SATURDAY – RACE 1
Both of the Acura NSXs put the power down and had great starts in Saturday's race, however, a good amount of bumping and banging on the first lap negated Eversley and Kox's early gains.
"The start of the race was pretty hectic as it always is in World Challenge," Eversley said. "I was able to move up the inside and pick up a couple spots, but then immediately a couple guys started banging into each other and I checked up and lost the spots I had just gained."
The 33-car field eventually settled into a rhythm, but just as the team was preparing for pit stops, Kox radioed in that he had made contact with the No. 111 Lamborghini. The hit damaged the front of the No. 93 Acura NSX enough that it was unable to continue.
Eversley successfully handed the No. 43 over to Dyer, just before the race's first and only full-course caution came out. Dyer was running eighth when the race restarted and soon found his way around the No. 88 Bentley to take over seventh.
Shortly thereafter, several cars were called onto pit lane to serve penalties for improper pit stops. This promoted Dyer to fourth.
With less than 10 minutes remaining in the hour-long event, Dyer was hit hard from the side. This pushed a piece of bodywork onto the left-rear tire, damaging it, and forcing Dyer to pit. The team was able to replace the tire and send Dyer back out with one lap remaining. He finished 19th overall, 11th in class.
"It got a little rough and tumble." Dyer recalled. "We had a couple close encounters, including one that put me in the grass. That was unfortunate, because I think we had a really solid race going. We cut a tire, so we had to do a late pit stop and that really sealed our fate."
SUNDAY – RACE 2
Sunday's race grid was set by each car's fastest lap time in Saturday's race. This put the No. 93 20th on the Sprint-X grid. The No. 43 opted to change an engine, so it had to start from the back of the grid.
In Sprint-X, starting drivers are swapped from the previous day's race, so Wilkins strapped in the No. 93 to start Sunday's event, while Dyer was on start duty for the No. 43.
Thankfully, Sunday's race had far less contact than Saturday.
Dyer had an excellent start and gradually picked his way through the field before handing the car over to Eversley.
"One position at a time right," Dyer said of his stint. "I just took it one corner, one position, one lap at a time and you do the best you can without making any mistakes. I had to avoid a couple cars spinning and some errant cars, which thwarted my forward progress and I had to reset and do it again."
Wilkins kept the No. 93 Acura NSX on the road and damage free at the start. He was up to 18th when the race's first full-course yellow was issued. The pits opened right as green flag racing resumed and Wilkins brought the car in to switch to Kox, but the pair got a big tangled in their exchange.
"The left-side shoulder belt got stuck somehow on my Hans Device, so I couldn't get out," Wilkins said. "That slowed us down and then when Peter got in the right shoulder belt got a bit caught up, so the shoulder belts weren't doing us any favors today! We'll have to review and see what happened. If it's something I did wrong, then I take full responsibility for that. It definitely cost us some track position. We'll make sure we eliminate any potential issues moving forward."
"I think we've practiced driver changes 10 times more than everyone and as you can see, it can still go wrong," Kox added. "It was a shame."
The slow stop allowed the No. 43 to leapfrog its sister car in the race order. Dyer brought it in from 23rd and had a clean hand-off to Eversley. Once the field cycled through pit stops, Eversley was up to 12th and Kox was 15th.
"We played it safe on leaving the pit box," Eversley explained. "I waited until it said eight on the counter, especially with all the penalties handed out yesterday, I didn't want to risk anything. We jumped up the queue in pit lane and also with race pace. My teammate Tom had a heck of a start and worked his way up there."
An accident with seven minutes left in the race brought out the second full-course caution. It was clear the cleanup would take longer than the time left in the race, so officials brought out the checkered flag.
Both cars were able to pick up one spot before the incident, with Eversley crossing the finish line in 11th and Kox 14th.
"All in all we picked up 16 positions, so that's a testament to these RealTime guys who were working all night to get us on track today," Eversley said.
Though it wasn't the result the team was hoping for, all the drivers were impressed with the progress made by the team.
"For the most part, I think the mission today was to get a finish and keep accumulating data so that we can better the platform as a whole," Dyer said. "I think we achieved that today and everyone is pleased with it."
"If you look at where we started and where we ended, I think we improved a lot," Kox added. "It's a long season, so we have everything to play for and we just need to keep finishing."
The Pirelli World Challenge Sprint-X races from VIRginia International Raceway will air on CBS Sports Network, Sunday, May 7, at 6pm ET.
The next Sprint-X round is May 19 – 21 at Canadian Tire Motorsport Park.