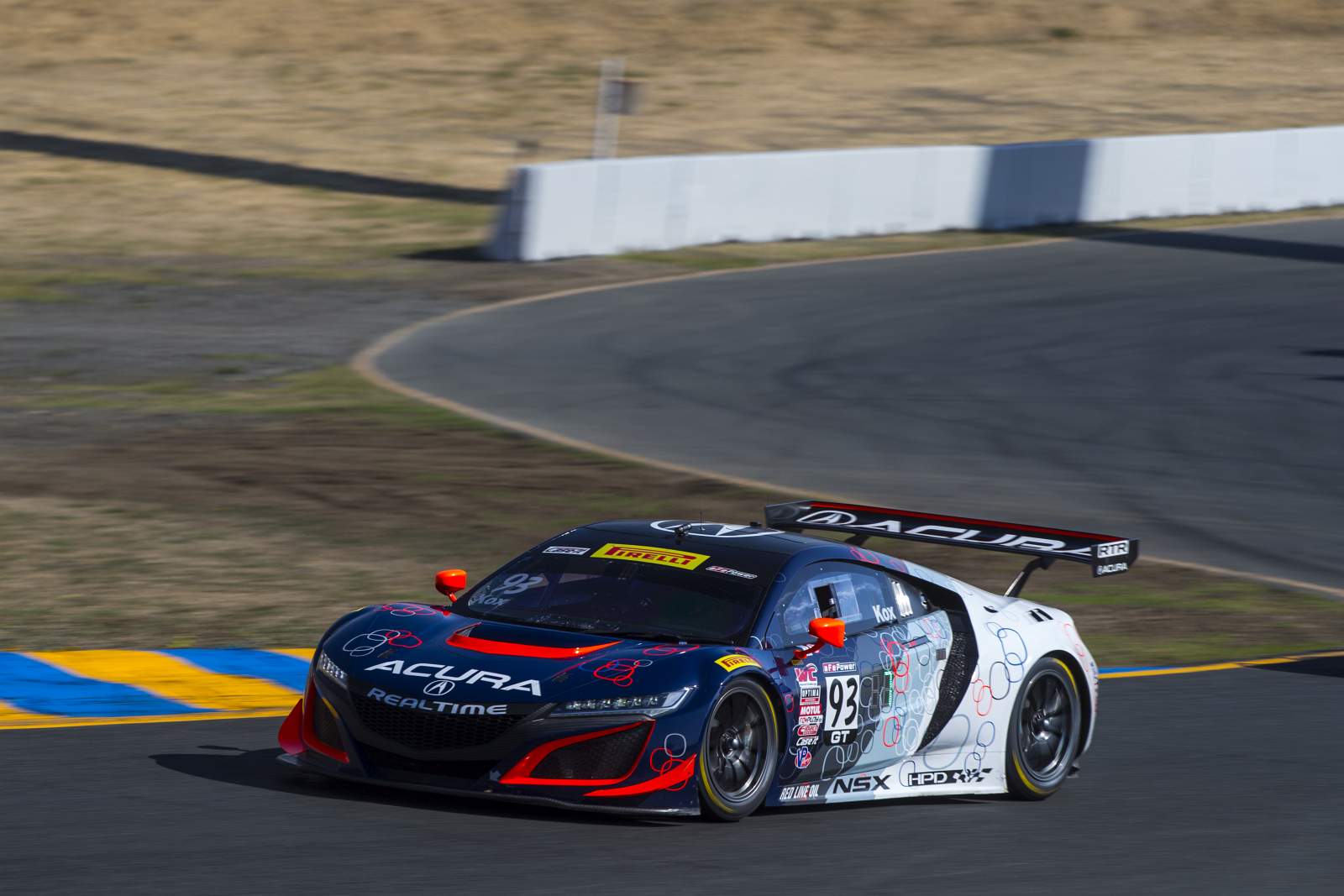 RealTime Acura Closes Out Pirelli World Challenge Season in Sonoma
SONOMA, Calif. (Sept. 18, 2017) – Sonoma Raceway in Northern California hosted the final doubleheader of the 2017 Pirelli World Challenge season. The Sprint-X titles were decided in the previous event in Texas, now it was time to settle the GT Sprint Championship.
QUALIFYING
For the final qualifying session of the year, drivers Ryan Eversley and Peter Kox both put their rides on the sixth row of the grid. Eversley was 11th in the No. 43 Acura/HPD/RealTime Acura NSX GT3 and Kox 12th in the No. 93.
SATURDAY – RACE 1
The RTR teammates had strong starts, with Eversley advancing to ninth and Kox to 10th on the opening lap. A handful of laps later, however, Eversley noticed a problem with his brakes.
"A couple of cars got together at the start and that helped us move up two positions, but some debris came off one of them and hit our car," Eversley said. "It went into the wheel well, which ultimately led to brake failure. It didn't cause me to go flying into the barriers, but it did bleed down enough that I ran wide into a corner and knew that I had a problem."
When Eversley came into the pits, it promoted Kox to ninth, which he maintained through to the checkered flag, though it was no easy task.
"Although I was alone, it was a hard race, because we missed the setup a bit," Kox said. "It was, in a way, a lonely race for me, but it was hard, because I struggled with a combination of setup and some technical issues."
Though a cut brake line prevented Eversley from finishing the race, he still felt confident about the pace of his Acura NSX GT3.
"The car felt really good, which is why I was so disappointed, I felt like we had a top six car," Eversley said. "I came into Sunday with confidence knowing the car would be competitive."
SUNDAY  - RACE 2
Each driver's fastest race lap from Saturday set the grid for Sunday, which, coincidentally, put Eversley and Kox in the exact same starting positions as the day before; 11th and 12th.
Kox had a spectacular start and rocketed to seventh in the No. 93.
"I had my best start of the season," Kox said. "I was up to seventh. The car was quite different from Saturday. We were very competitive and I was really happy with the performance."
Behind him, chaos broke loose. Eversley had nowhere to go when a damaged McLaren was blocking the track. He made heavy contact with the McLaren, ending his race. It was a hugely disappointing way to end the season for Eversley.
"I was nose-to-tail with a couple cars and we moved out in Turn Two like you normally do and when the seas parted, there was a McLaren parked in the road," Eversley recalled. "I was coming with a full head of steam. I tried as hard as I could to stop and turn right, but I hit the McLaren at a high rate of speed and that caused a large amount of damage, so we weren't able to continue."
The race went full-course caution to clean up the incident. On the restart, Kox held his ground in seventh and began to scrap with the No. 99 Porsche of Fogarty for sixth. Eventually though, Kox would settle into seventh and finish there at the checkered flag.
"I got the maximum out of the car and myself," Kox commented. "The lap times were very consistent and I was very quick, the quickest that was possible. I was fighting with the Porsche of Fogarty till the end and it was a good race."
At the close of the 2017 Pirelli World Challenge season, Kox ended up ninth in the GT Sprint points, while Eversley finished the season in 13th. RealTime Acura was sixth in the Team Championship.
"I really enjoyed the opportunity to drive for RealTime and to race in the U.S.," Kox said. "I'd like nothing more than to come back. For sure, I think everybody wanted better results, but overall we got a win and strong results with the package that was available to us."
Points from Sprint-X and GT Sprint were combined for an Overall Championship, where Eversley earned eighth place and Kox was ninth.
"It's been a tough year," Eversley concluded. "We've been developing a car that has no predecessor against cars that are all based off of previous generation GT3 cars. We're on the back foot, but it was great to see the team doing such a great job this year with the workload that's required. I wanted to get them a better result to close out the World Challenge schedule, but it didn't happen."
Though it's the end of the Pirelli World Challenge season, RealTime Acura has one more race to look forward to; the eight-hour Intercontinental GT Challenge at Mazda Raceway Laguna Seca, October 13 – 15.
"We do have the eight-hour race at Laguna Seca coming up, which I'm really excited about, because, competing against the teams from Europe, I think we're going to show that RealTime is one of the best in the world.