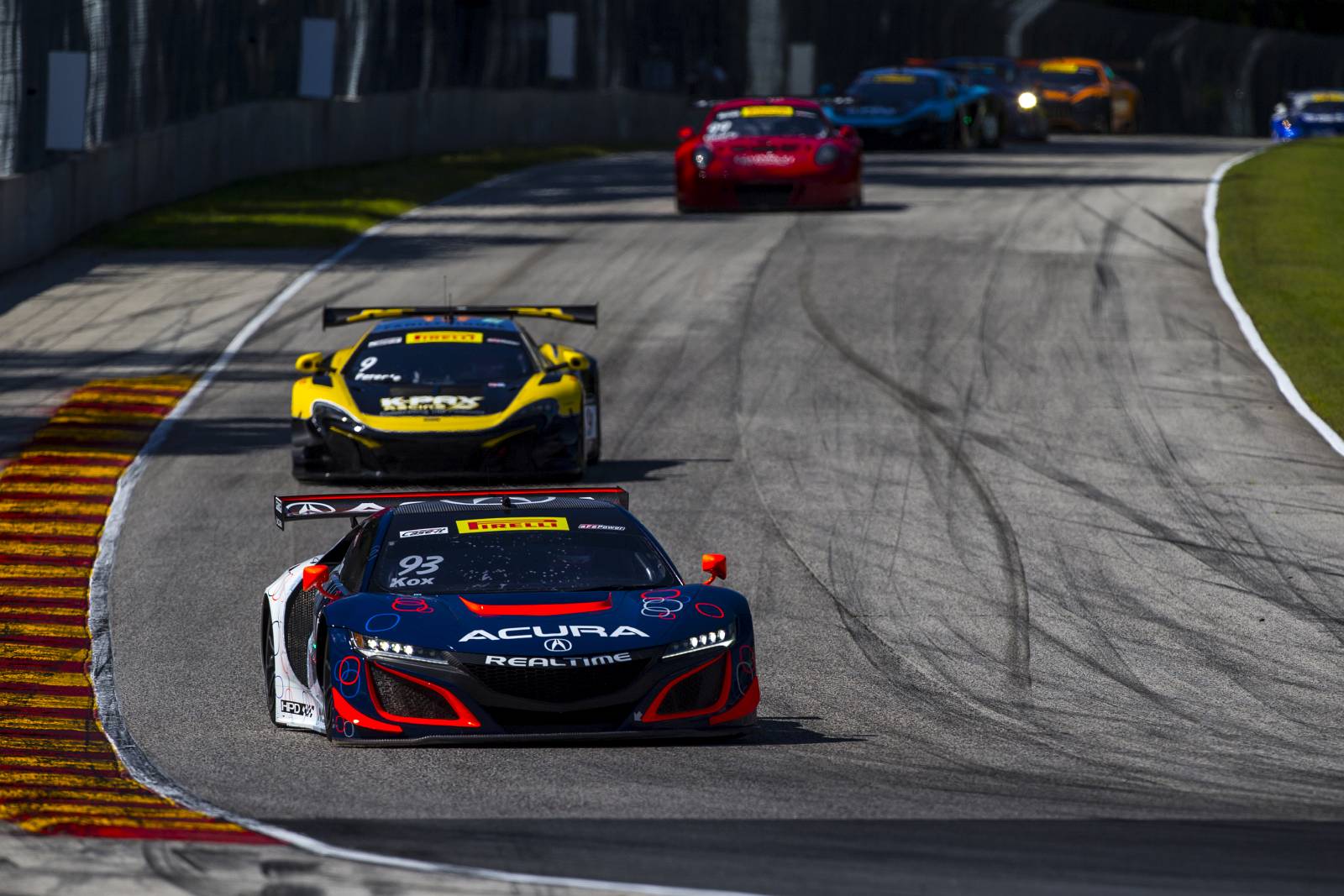 Home Track is Kind and Cruel to RealTime Acura
ELKHART LAKE, Wis. (June 26, 2017) – Less than an hour from the RealTime Racing shop is the team's home track of Road America in Elkhart Lake, Wisconsin. There, Peter Kox earned another top-five finish for the Acura NSX GT3 in the Pirelli World Challenge GT category. He and teammate Ryan Eversley were not as fortunate on the second day of competition.
The 4.048-mile, 14-turn road course is a fan and driver favorite in the world of motorsports. Last year, Eversley swept both races at Road America, including a one-two finish with teammate Peter Cunningham in a pair of Acura TLX-GTs. Back with the new Acura NSX GT3 this year, the team had high hopes in front of its home crowd.
QUALIFYING
A few small rain showers made their way across the track during Pirelli World Challenge GT qualifying, but none of them were heavy enough to affect the track surface.
On slicks the entire time, Kox qualified the No. 93 Acura/HPD/RealTime Acura NSX GT3 seventh. Eversley, in the No. 43, wasn't far behind in ninth.
SATURDAY – RACE 1
The RealTime teammates each faired much differently on the start of Saturday's race. Kox was able to pick his way through to fourth by Turn Eight, but Eversley got swarmed into Turn One and had to take evasive action to avoid incidents ahead of him.
Kox held onto fourth for a couple laps before the No. 8 Cadillac took the spot. The Cadillac would go on to pass the No. 31 Ferrari, which made it Kox's primary competition through the remainder of the race.
After reeling in the Ferrari, Kox was all over its bumper for the second-half of the race. He took some looks, but ultimately was unable to get by and finished fifth.
"This was the maximum I could do today," Kox said. "I'm happy with the progress we are making. We had a good car and I'm looking forward to tomorrow."
After falling as far back as 12th, Eversley slowly picked his way back to the top 10. He was up to ninth when he got stalled behind the No. 6 McLaren. His efforts to get around the McLaren allowed the No. 3 Cadillac to pounce, which demoted Eversley to 10th at the finish.
"I was thinking 'this is a bummer that we're fighting for 10th between these three awesome drivers,' but we put on a good show and I hope the crowd enjoyed it," Eversley said afterwards. "It's nice to take our Acura out there against the Cadillacs, McLarens and Ferraris and show how good we are. Hats off to Peter Kox for getting a top five!"
SUNDAY – RACE 2
Kox and Eversley were lucky enough to find some clean air early in Saturday's race. This gave them the opportunity to set quick race laps and earn strong starting positions on Sunday's grid. Eversley started sixth, Kox seventh.
The teammates dropped a spot on the start, but the race quickly went full-course caution for two Porsches stopped in Turn Five.
When the race restarted, Eversley and Kox were side-by-side going into Turn One. The No. 14 Porsche pulled alongside to make it three-wide out of Turn Three and the No. 99 Porsche attempted to join the fray as the pack charged for Turn Five. That's when things got ugly. The No. 99 Porsche clipped the nose of Eversley's Acura, spun across the front of him and into Kox, who was on the inside. Both Kox and the Porsche went spinning into the wall. Kox's car was heavily damaged and his day was done.
"I got pulled into something that was not my fault at all," Kox said. "I had a really good start and I had a good restart. I was running down into Turn Five and suddenly the two Porsches came along, there was a hit and I got taken out."
A red flag was issued to clean up debris between Turn Four and Five. Racing resumed with less than 15 minutes left on the clock.
Eversley restarted in eighth and finished that way without challenge.
"We had some cosmetic damage, but nothing that caused any loss of pace," Eversley said. "We were one of the best cars today, which is a testament to the RealTime guys and the NSX project in general, that we're getting such good aero stability out of it. To be able to run down Porsches and McLarens through the Carousel and the Kink is a big deal. We just need some better race luck."
The team now looks ahead to the Grand Prix of Mid-Ohio in five weeks' time.  The Mid-Ohio Sports Car Course will host rounds six and seven of the PWC GT Sprint Championship.